(U. of Alaska Webpage | Twitter | Author RSS)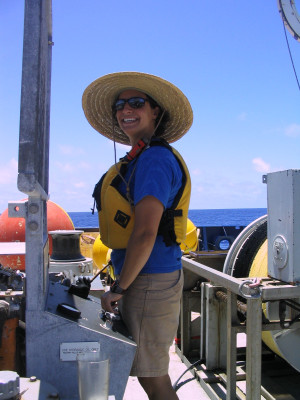 Dr. Kim Martini is a physical oceanographer at the University of Alaska, Fairbanks.
Kim has a passion for new and novel ocean observing technologies. Quite simply, her goal in life is to throw expensive s**t into the ocean.  Her interest was piqued as a graduate student when her advisor handed her 20 instruments to prepare and program from an upcoming research cruise. After that experience she was smitten.
Since then, Kim has participated in a variety of research cruises. These range from day-long hydrography surveys in Puget Sound to the month-long cruises in the Central Pacific where she helped deploy deep moorings over 3 km in length. Kim also believes that broad scale data dissemination is a vital, but often overlooked, part of oceanographic research.  Her goal is to create simple and universal tools to not only quickly process data, but to also allow her and other researchers to easily share these data using standardized public repositories.
In addition to working with instruments, Kim also studies internal waves and has written several papers on the subject. As a Ph.D. student at the University of Washington, she looked at how internal waves shoal onto continental slopes and break. After graduating, both her and her area of interest moved north. She is now studying how internal waves in the Arctic Ocean respond to changes in sea ice coverage and structure.
Kim is a native New Yorker who loves the city and now lives in a yurt on a mountain in Central Alaska. Her life is quite different now.